ABOUT MAGRITTE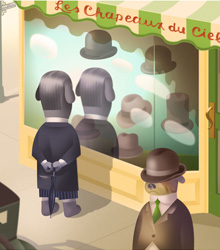 One bright day in the dark of night you look at your reflection in a window and see the back of your head. You try on a hat that floats in the air and leads you to a place where anything is possible and everything is impossible.
This is not the "real" world. You have entered a "surreal" world of visual surprises. In this world, a boulder floats in the sky. Look closely at everything to see what is hidden. Ordinary things appear in unlikely places, and the familiar is suddenly very strange. Imagine what it might be like if sky and clouds are down below instead of overhead, if you lived in a house inside a house that's inside a house. What if it only rains under your umbrella? Or the sun shines through your window, though outside it is night? Can it be both day and night?
The world I create in Magritte's Marvelous Hat is inspired by the paintings of Belgian artist René Magritte (1898-1967). Magritte studied art at the Academy of Fine Arts in Brussels, and with his wife, Georgette, moved to Paris in 1927 where he became friends with a group of painters known as "surrealists." They were not just painters but poets, photographers, filmmakers, and musicians too, including the painters Joan Miró and Max Ernst, the writer André Breton, and the painter/photographer Man Ray.
Each in his own way wanted to change how we see the world. They met in cafés, where they played drawing games to free the imagination and drew whatever came to mind no matter how senseless. Though Magritte is considered one of the great surrealists, along with Ernst and Salvador Dali, his paintings do not shock the viewer by appearing random, unearthly, or disturbing. Rather, he painted everyday objects (a hat, an egg, an apple, a pipe) and combined them in ways that are mysterious and surprising—the more ordinary they are, the greater the spark to the imagination.
CREATING THE BOOK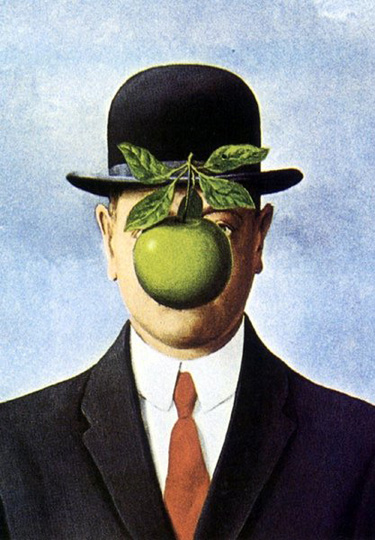 For thirty years, before I was an author/illustrator of children's books, I created art to accompany newspaper editorial columns. Since the subject of editorial comment is usually some intangible idea like the futility of war or the corruption of the electoral process, I was always seeking inspiration to create images both comfortably familiar and instantly recognizable, yet puzzling enough to invite thought. My search for "concept images" usually led me to one artist known for attaching the ordinary to the impossible, the Belgian surrealist painter René Magritte. From his painting of the man in the bowler hat with the green apple hiding his face to a boulder floating in the clouds, his body of work was a mother lode for thought and imagination.
I decided that Surrealism, at least as expressed by Magritte, was a direct line to imaginative thought and creative ideas. Magritte's ordinary subjects ( a comb, a hat, an apple, a cloud, a bird cage) are very child-friendly and can be found everywhere in our culture from advertising (This is not a plane. British Airways) to movies (Being There) and music (René and Georgette Magritte With Their Dog After The War by Paul Simon), so why not a children's book, I thought.
I was not prepared for how long it would take to write this book, especially considering that a picture book normally takes me one or two months to write and another eight months to illustrate. Over the course of a year and through numerous incarnations, this story was written and a dummy book was made.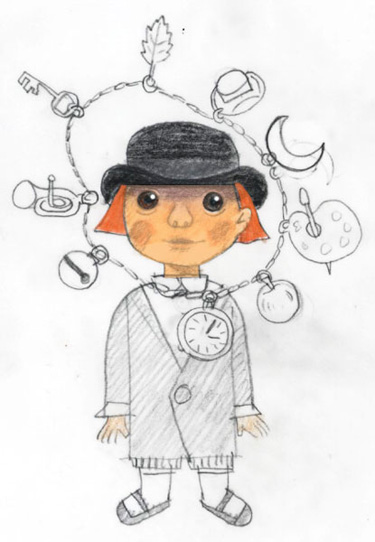 First was a story called Meeting Margaret—a young girl is late for school because she cannot find her magic charm bracelet (it's letters spell M-A-G-R-I-T-T-E ). At first the two-page picture spreads appear to blend seamlessly into one large image until the reader realizes that what's happening on the left hand page happened this morning, while on the right is what will happen later today. While the left side moves forward in time, the right side returns back until they meet at NOW—the moment when Margaret, having found that afternoon the bracelet she lost yesterday, returns it to herself on the way to school today. The story made my head ache.
Next was The Mysterious Monsieur Magritte—a dog in a bowler hat lives on a certain Avenue Louis in Paris and takes his walk around the neighborhood each day. This is for younger kids, I thought, a sort of This is the House That Jack Built approach with one line of text on each page. "This is the house where Monsieur Magritte paints. These are the steps to the promenade. Here is Magritte on the Rue des Réves. This is the night in the day..." With this version of the story I inserted between two pages of art a clear acetate page painted with a small decal-like picture that, when turned, revealed what was hidden on one page and hid what had been seen on the other. Four of these pages made a kind of reverse die-cut picture book.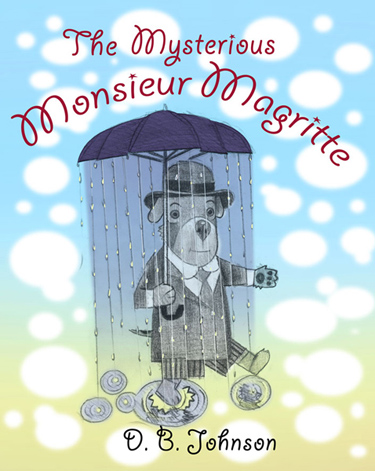 My third story was a revision of The Mysterious Monsieur Magritte—still a dog in a bowler hat but now a wacky detective story that confuses cause and effect. Magritte wakes one morning to discover his clothes are missing. Evidence suggests it's the work of a burglar, but as the story carries us along with its surreal nonsense, we discover to our surprise that Magritte is, in fact, Chief Detective Inspector Magritte, a dog with a terrible memory. He forgot that he dropped off his clothes at the cleaners yesterday, including a pair of pants with the key to his apartment, and so had to climb through his own window in the night. The case was easily solved: Inspector Magritte was his own burglar!
Finally I wrote Magritte's Marvelous Hat—One bright day in the dark of night... the painter Magritte bought a fine bowler hat that did not pinch his ears or muss his hair, but floated just above his head and fit him perfectly! And what's more, the hat made painting easy. Each picture Magritte painted was better than the one before.
Soon he was painting day and night in his small room on Avenue Louis, and he forgot all about his hat...until the day his brush unpainted his picture, and the colors splashed onto his face! His hat had flown out the window, and Magritte could not paint without it. He called to the hat, but it did not come to float above his head. The hat was hiding, so Magritte hid too and let the hat find him.
When at last it found Magritte, the hat did a surprising thing — it sat right down on his head, and floated him up into the air!
Magritte Paintings That Inspired Magritte's Marvelous Hat