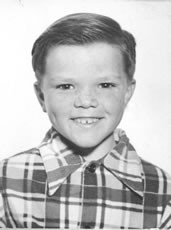 A SHORT BIOGRAPHICAL SKETCH
Sometimes the things that are best for your whole life happen when you're very young.
I was three years old. My father moved our family into a house he built on a country road in New Hampshire. The house was unfinished inside, so we were able to see through the open framework from the living room all the way to the far bedroom.
That first winter we kids, all five of us, scrunched up around the fireplace at night before racing through the walls to our cold bedrooms.
There inside the covers at the foot of our beds, my mother had placed warm bricks wrapped in newspaper. In the morning we could see our breath and scratch the ice inside our windows.
It was a great polar adventure.
Summers meant family picnics and relatives from the city.
With them we flew kites and balsa airplanes in the field across the road. Every year Uncle Herb brought a box of paper left over from a year's worth of jobs at his print shop. My Uncle Bud, an architect, drew wild characters he dreamed up on the spot. Once he gave us a Walter Foster drawing book. That year I used hundreds of sheets of paper copying his crazy faces and adding others from the drawing book. Every summer after that, I dived into that big box of paper and drew some more.
All that drawing got me a lot of friends. In school I became the "class artist," but I didn't take art very seriously. Mostly I roamed the woods and fields up and down our road. I loved the mile walk to the two room schoolhouse.
Each afternoon my mother, from the kitchen window, would glimpse me on our road two hills away. To her, that meant I'd be home in fifteen minutes. But one day after thirty minutes I still hadn't arrived. When I finally walked in the door an hour late, she was very angry.
"What took you so long?" she demanded. I didn't understand why she was so upset. "Mom!" I said, "I took the shortcut." There it was. I lived in my own world of stonewalls, woodchuck holes and swamps. READ MORE»