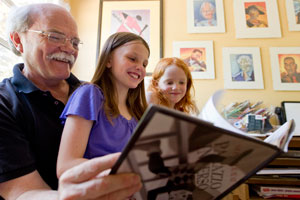 Photo: Melody Komyerov
With the publication in 2000 of his first illustrated children's book, Henry Hikes to Fitchburg, D.B. Johnson has made a distinct mark in the world of children's literature by introducing kids to the important ideas and work of the likes of Henry David Thoreau, George Orwell, M. C. Escher and René Magritte. In addition to the praise he has earned for his original picture-book stories, Johnson's art has won numerous awards, including The Boston Globe/Horn Book Award for Best Picture Book, a New York Times Best Illustrated Children's Book, and a Publishers Weekly Best Book award.
While book illustration is a relatively recent undertaking for Johnson, publication is not: he is a nationally recognized freelance illustrator whose work has appeared in the pages of such well-known publications as The New York Times Book Review, the Los Angeles Times, The Nation, and the Washington Post. In addition, Johnson's editorial art began appearing in syndication in 1990.
Member: Society of Illustrators